8-Hour Hazardous Waste Operation and Emergency Response (HAZWOPER) Refresher
Course Description
The Occupational Safety and Health Administration (OSHA) requires that all military and civilian personnel working in sites that are exposed or potentially exposed to hazardous substances, health hazards, or safety hazards, complete this 8-hour refresher course annually* to ensure their safety and broaden their health and safety knowledge. The material contained within our 8-Hour Hazwoper LIVE Online Refresher Course is OSHA-compliant and is comprised of 11 Modules. Modules can be completed at the student's convenience and at their own pace.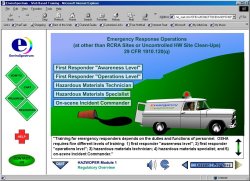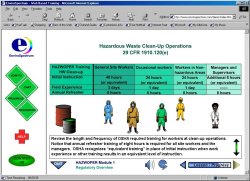 Click on either image for a full screen view. NOTE: The actual course is highly interactive, with animation and voice narration.
The Benefits of EnviroSpectrum's 8 Hour Hazwoper LIVE Online Refresher Course:
COURSE MATERIAL IS OSHA-COMPLIANT ... All Hazwoper LIVE Online course material is OSHA-compliant and goes further toward meeting federally mandated requirements than any other company offering online training today due to our instantly-accessible online Hazwoper Instructors, and the customized site specific material
LIVE ONLINE INSTRUCTORS ... Our Hazwoper LIVE Online Refresher Course allows Students instant access to a LIVE Online Instructor and provides that Instructor with the ability to comprehensively test the student's knowledge of the course material and the customized site specific material, as well as ask the student individual questions
YOU SAVE MONEY ... Group rates can save employers as much as $150-200 PER STUDENT who takes our 8 Hour Hazwoper LIVE Online Course compared to standard classroom training. With online training, you don't pay for classrooms, course material, employee travel time, instructor meals, lodging and travel expenses, and shipping of classroom equipment to remote sites
ANYTIME/ANYWHERE LEARNING ... Students have the ability to take the course whenever and wherever they choose … all a Student needs is access to a computer on the Internet
CUSTOMIZEABLE RESOURCES ... Do you require your employees to have access to customized resource material such as company specific hand-outs to complete the Hazwoper Refresher Course. No Problem. We can customize our site to include direct links to specific company web site pages or any other resource site you request. *
ACCOUNTABILITY ... With our advanced timing feature and embedded Topic and Essay questions, students must take the entire OSHA-required 8 Hour Course, and are prevented from simply skimming through questions to reach the end of a Module. That means Group Administrator's maintain complete accountability, on file, and on record, for every employee
COURSE IS SELF PACED ... Students can take the entire 8-Hour Hazwoper LIVE Online course in one day, or split it up into 30, 60 or 90 minute intervals. Completed portions of the course are recorded, allowing the student to pick up where he or she left off
ADMINISTRATIVE CAPABILITY ... If you are a Group Administrator, we not only save you time and money… we make your job easier. Once a student has begun taking our Hazwoper LIVE Online Refresher Course, you can view which Modules the student has completed, determine whether the student has completed the course, and establish the student's level of achievement. Our system maintains the Pass/Fail records of all of your employees, for your review, for as long as you are actively using our site
AUTOMATIC RENEWAL NOTICES ... Once a student has completed our Hazwoper LIVE Online Refresher Course, our advanced system automatically notifies the Group Administrator when the time has come for the next annual Refresher Course
ADVANCED LEVELS OF CERTIFICATION ... Students have the option of completing advanced levels of Essay questions embedded within the course material that will reward the student upon successful completion of the Course with either a Completion Level, Advanced Level or Expert Level Certification
STUDENT CERTIFICATE ... Upon completion of the course, all students will receive a personalized Certificate

* Some customized web links may require fees.

Hazardous Material Technician Annual Refresher Courses Program Costs
Cost              Number
$149.99           1
$139.99           2-10
$129.99           11-30
$119.99           31-50
$109.99           51-99
$100.00           100+
For more information, please contact EnviroSpectrum Toll Free at (877)609-0491
* Prerequisites
40-hour Hazardous Waste Operation and Emergency Response (HAZWOPER) Introductory Course